본문
Cancer Early stage test
9G test™ Cancer/Lung (CE)
Sample type

Plasma
Shelf life

12 months
Package

48 tests/kit (Usage for 12 persons)
Compatible Device

BMT 1D scanner, BMT 9G-1000 analyzer
9G test Cancer/Lung  
​
Outperform Competing Technologies 
· Low-dose CT(LDCT) adapted for early screening of lung cancer, but the survival rate of lung cancer was not improved at all.
· Doctors demand a product that can complement LDCT in order to increase lung cancer survival.
Doctors who have used 9G testTM Cancer/Lung with LDCT can strongly recommend additional examination to patients suspected of stage 1~2 lung cancer.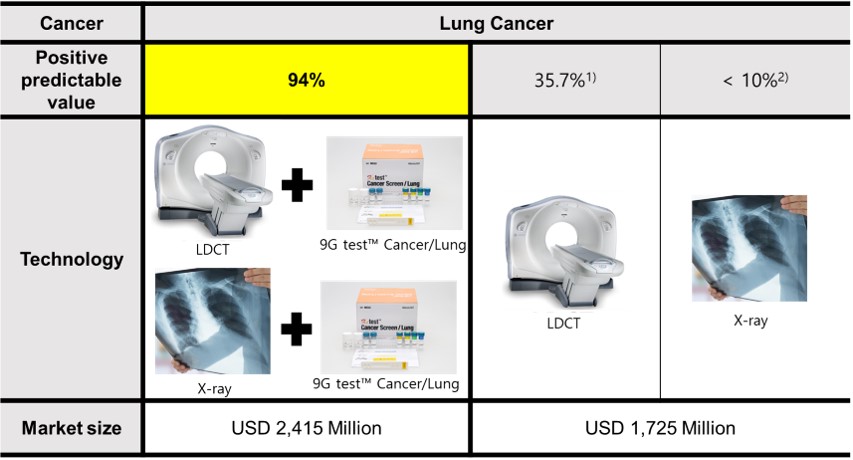 When 9G testTM Cancer/Lung and LDCT are serviced at the same time, increasing the survival rate for lung cancer.
​


​
· 9G testTM Cancer/Lung and LDCT are serviced at the same time, 80% of suspected lung cancer patients will be judged normal, and 20% of lung nodules, including stage 0~1 lung cancer, will be sent to next stage, confirmed examination.
· The confirmed test included stage 0~1 lung cancer, increasing five-year survival rate.
· The purpose of the 9G testTM Cancer/Lung is to allow doctors to request a through examination of suspected stage 1 lung cancer patients.
9G test™ Cancer/Lung was developed and commercialized using our proprietary technology published in the world's leading journals.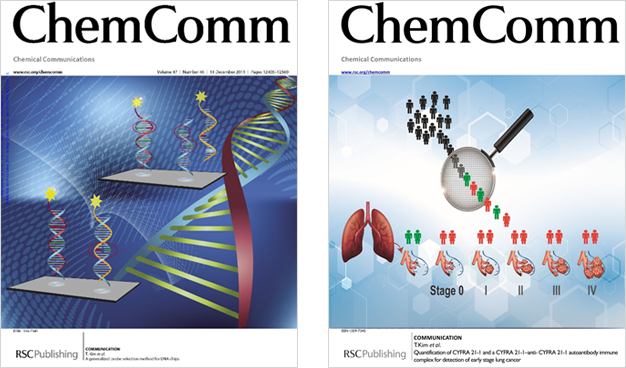 How to use 9G test
TM
Cancer/Lung
Published Papers
1. Quantification of Cyfra 21-1 and a Cyfra 21-1-anti-Cyfra 21-1 autoantibody immune complex for detection of early stage lung Cancer. Chemm Comm. 2019. Aug 20;55(68):10060-10063. doi: 10.1039/c9cc03620b.
2. 9G test™ Cancer/Lung : A desirable Companion to LDCT for Lung Cancer Screening. Cancers 2020, 12, 3192;doi10.3390/cancers12113192.
3. Detection and Quantification of Tp53 and p53-Anti-p53 Autoantibody Immune Complex: Promising Biomarkers in Early Stage Lung Cancer Diagnosis. Biosensors 2022, 12, 127.